Film & TV
'Tommy and David'
Sara Joe Wolansky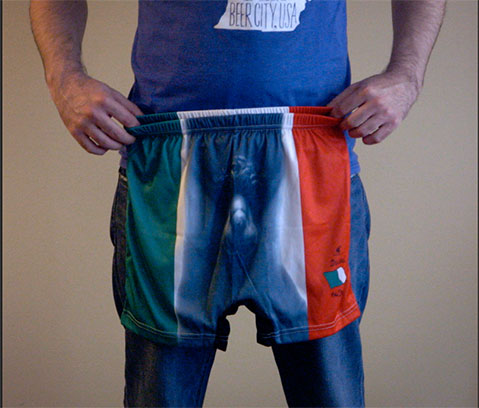 Upon a visit to Florence, Italy, American tourist Tommy is moved by the site of Michelangelo's David, and decides to start an import business for clothing and paraphernalia that show off the statue's perfect penis. This short film tells us why.
How did you stumble upon this story?

I am very blessed to have had the opportunity to visit Italy with family and friends. When in Rome (literally), we laughed at the scores of dumb penis-themed souvenirs available for purchase: the Leaning Tower of Penis, penis pasta, and of course, these David shorts. I started to think not just about the tourists who purchase this stuff, but of the people whose livelihood depends on these inappropriate trinkets. Out of curiosity, I Googled "penis shorts Michelangelo" and found Tommy and his business partner along with their David Shorts company online.
The idea of making a film about "penis shorts" is inherently silly — but there's more to the story than just laughing at these hilarious boxers. We know that the David is important in part because these "penis shorts" exist. The mass reproduction of a particular work into a souvenir informs us that the sight must be important; the kitsch transforms the original object into a must-see. When was the last time, after all, that someone sold a pair of phallic shorts modeled after an artistically insignificant penis? In some ways, the random tchotckes for sale outside a work of art provide more context for the piece's cultural impact than the placard within the museum.
Did you get to go to Italy to get the relevant David scenes?
I actually shot the David footage well before I had the idea for this specific film. Tourist behavior, and the way we act on vacation, is something that has always fascinated me. This exact topic, in fact, was the subject of both my Harvard sociology thesis as well as a solo exhibition of my photography entitled "I am a Tourist" at the Three Columns Gallery.
When I visited the Galleria dell'Accademia in Florence and saw the David, I was captivated by not only the statue but also the hundreds of people photographing it — even though high-quality photographs are easily available online or at the gift shop. I spent hours filming at the Accademia, fascinated by not only the statue but more importantly, the environment surrounding it. The experience of viewing the David was an event in itself, more in common with a carnival than a visit to the repository of one of man's greatest cultural achievements. Even though I didn't know what the purpose of this footage was at the time, I knew I wanted to capture the moment. When I came up with the idea for this film almost a year later, I then had the perfect use for this footage.
Were you surprised no one had tried to import these things before him?

I did find it a little surprising that no one had thought of importing these before! I had no idea that prior to 2007, when the David Shorts company was formed, these souvenirs were a local Italian commodity. I am not surprised, however, that the "penis shorts based off of famous works of art" industry has done well internationally.
How is business doing for Tommy now?
In an alternate universe, Tommy and his business partner have become multibillionaires off of their "penis shorts" empire. In reality, Tommy has another job and this is something he does part-time on the side along with his business partner. According to my interview with Tommy, they do get lots of orders for events such as bachelor/bachelorette parties, Halloween, and gay pride parades. They've sold shorts in the US, UK, Canada, Australia, Brazil, Czech Republic, Japan, Russia, Norway, Denmark, Sweden, Mexico, Slovakia, France, Spain, South Africa, and Germany.
What would Michelangelo think?
Michelangelo sculpted the David before his 30th birthday. The highest form of humor (according to a 20-something boy) is a great penis joke. Thus, 29-year-old Michelangelo would definitely be overjoyed by these derivative "works of art" that his David inspired.