Sports
Couple Eyes Olympic Gold
Ashton Eaton, Brianne Theisen-Eaton, Barbara Nwaba, Vin Scully, Amber Melgoza, and More
Spring training has begun in Santa Barbara for Olympic gold-medal hopefuls Ashton Eaton and Brianne Theisen-Eaton, the power couple of track and field. Outside of Oregon, where the sport is a big deal, they are hardly recognized, even though they have People magazine looks. Empty celebrity is not their thing. They want to be as genuine as the hurdles, jumps, throws, and all those laps they've been running the past decade.
"It's cool to tell people about us and what we do, [but] how does that help people? Why should people care?" Theisen-Eaton said at a fundraiser for the Santa Barbara Track Club (SBTC) last Sunday. "You're constantly talking about yourself, and it doesn't feel like people are getting anything out of it." Eaton, the defending Olympic decathlon champion, went so far as to tell his wife, "They just want to know what I do, and I think that's boring."
So the computer-savvy couple turned things around by reaching out to fans through their website (weareeaton.com) and asking them: What is it that you do? What are your goals, your struggles, your breakthroughs? They invite people to upload their answers in text, images, and videos, tagging them #What'sYourGold. The idea is to show that everybody has to persevere through ups and downs, even gifted athletes. "We aren't perfect," Theisen-Eaton said. "We struggle."
The Canadian Olympic athlete had a breakthrough at last month's World Indoor Championships in Portland, Oregon, winning her first international gold medal in the pentathlon. Barbara Nwaba of the SBTC finished fourth. Nwaba, the defending U.S. champion in the outdoor heptathlon, hopes to be competing with Theisen-Eaton at the Rio Summer Games. History could be made if both Eatons win gold medals — something never before accomplished by a husband and wife from different countries.
The SBTC hosted the fifth annual Sam Adams Combined Events Invitational at Westmont College last weekend. The club's own Thomas FitzSimons Jr. won the decathlon (7,576 points), and Lindsay Schwartz won the heptathlon (5,991). Eaton gave the discus a fling (42.60 meters, 139′9″), and Nwaba set a new personal best in the javelin throw (50.40, 165′4¼″).
A CLASSY START: "Hi, everybody, and a very pleasant Monday afternoon to you." So began Vin Scully's 67th and last season announcing Dodgers baseball. He flawlessly described the action through my portable radio, sounding much the same as he did at my bedside in 1958. After the third inning, with the Dodgers leading San Diego 3-0, Scully said, "That'll do it for me today," and turned the mike over to Charley Steiner and Rick Monday. It's going to be a year of nostalgic weaning, three innings at a time.
A CLASSIC FINISH: Wow. The degree of difficulty of Marcus Paige's game-tying three-pointer for North Carolina was topped by the degree of drama when Kris Jenkins sank his game-winning buzzer-beater for Villanova. It will go down as the greatest final five seconds in the mythology of March Madness.
CONNECTICUT DEFEATS SYRACUSE: That could be my "Dewey Defeats Truman" headline (it's written before the NCAA women's basketball final), but it's as much of a sure thing as any outcome in sports. UConn's latest postseason rampage heightens my appreciation of the UCSB team that faced the Huskies in the Sweet 16 in 2004. The Gauchos made a crowd of 14,000 in Hartford very nervous before UConn pulled out a 63-55 victory. The next closest Sweet 16 game for Coach Geno Auriemma's fierce femmes during a championship season was a 19-point win over BYU. This year, the margin was 60 (98-38) over Mississippi State.
AMBER ASTUTE: Amber Melgoza finished her basketball career at Santa Barbara High with almost 2,800 points, and she scored again in her choice of colleges. She signed with Washington in the belief it was an up-and-coming program, and the Huskies of the Northwest went all the way up to this year's NCAA Final Four.
S.B. ATHLETIC ROUND TABLE ATHLETES OF THE WEEK
(Mar. 27-Apr. 2)
Madison McNamee, SBCC softball
The freshman from Lompoc pitched a perfect game in a 13-0 win at Oxnard, striking out 10 of 15 batters in the five-inning game and going 2-2 at the plate with three RBIs.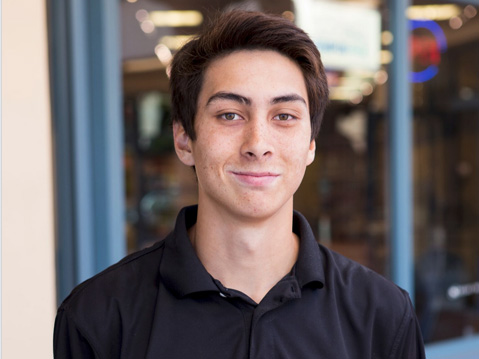 Robert Warren, Carpinteria baseball
He shook off an accidental beaning by his catcher and threw a complete-game victory against Channel Islands. Next day, he had four hits against Hueneme, as the Warriors went 4-0 in the Santa Paula Tournament.
(Mar. 20-26)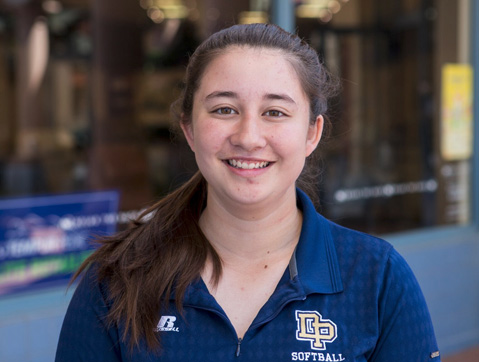 Jade Sinskul, Dos Pueblos softball
The senior catcher hit a home run and a game-winning double in a 4-3 victory over San Marcos, also blocking the plate for a putout in the sixth inning.
Chad Visser, San Marcos golf
The junior fired a two-under-par 69 at Buenaventura Golf Course in a Channel League win over Buena and one-over 72 at Rancho San Marcos in a victory over Santa Ynez.