Sip This
Buttonwood Farm Hop On
Buttonwood Farm Winery & Vineyard's Brand New Hopped Sauvignon Blanc
Buttonwood Farm Hop On: Brewers are longtime fans of incorporating elements of winemaking into their ales, from adding grape must to aging in used barrels. But the tables are turning, thanks to winemaker Karen Steinwachs at Buttonwood Farm Winery & Vineyard, who just received what she believes is the first federal approval for adding hops to sauvignon blanc. "I love hops and I love IPAs and I come from a brewing family, so I thought, 'What if?'" said Steinwachs, who was inspired by a Scar of the Sea hopped cider that she tasted during a World of Pinot Noir technical session years ago.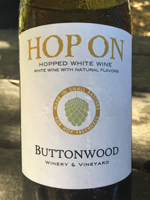 She bottled the hopped sauv blanc last fall, but it took about a year of wrangling with the feds to determine what it could be called — it's "white wine with natural flavors," technically — and what would be allowed on the label, as the vintage, region, and even grape variety had to be removed due to backward alcohol laws. (Why does the government want you to know less about what's in the bottle?) The result is Hop On, in which Galaxy and Glacier hops give a pleasantly floral and slightly skunky kick to the nose of the stereotypically grassy wine. "I wanted the IPA aromatics, but without the bitterness," said Steinwachs.
The blessing in disguise from not being able to include a vintage is that Buttonwood can crank out the Hop On as needed, and batch No. 2 is already in the works, with Pacific Valley Hops from Lompoc to be added in fresh form. In addition to the 25 initial cases, Hop On will also be available around the area in kegs, so expect to see it at Firestone Walker and other on-tap purveyors soon.
See buttonwoodwinery.com.