Make Myself at Home
Make Myself at Home: Mission Canyon Mediterranean
Enjoy Panoramic Views from This New Home at 2626 Montrose Place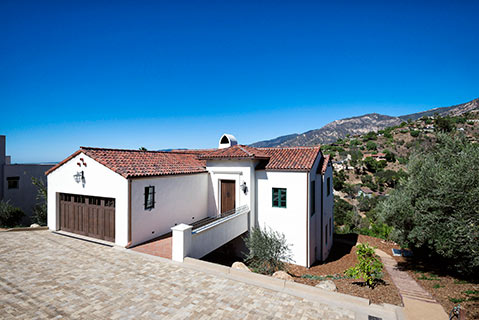 I've lived in a variety of houses in more than a few neighborhoods in my 30-plus years in Santa Barbara. An adobe on the Mesa, a craftsman near Cottage Hospital, and a carpenter gothic downtown have all been called home throughout the years. Each of these places was built in the 1920s or earlier, so each was quirky in its own way. Things didn't always match, and the bubble on the level didn't always settle in the center. Growing up in houses with character, my kids were used to these idiosyncrasies and took them as the norm, but at times I think they also longed for the opposite: sleek contemporary lines, or anything brand-new.
Last week, I found a house that would fulfill all of our seemingly conflicting dreams: 2626 Montrose Place is brand-new, all of its doors and drawers function flawlessly, and yet it is still filled with character. The home was constructed to replace a previous residence that burned in the Jesusita Fire of 2009. Montrose Place is a street where some houses were lost and others weren't affected, highlighting how fickle a fire can be with its hopscotching effects. The street overlooks Mission Canyon, with beautiful views both of the mountains, and all the way to the ocean.
This home is particularly well situated to take advantage of these sweeping views, with large patios that span the length of the house, on both the upper and lower levels. The vistas are so impressive that no matter what else the house has to offer, I would spend much of my time outside enjoying those expansive, peaceful views. Fortunately, though, the house does have much to offer.
The craftsmanship of this house is fully evident before one even steps foot inside. A Saltillo tile walkway with a custom iron railing leads up to the front door. Even the garage door — usually an unremarkable feature — is a work of art. It's a wooden carriage-style door with panes of glass along the top. The outdoor lighting fixtures are handmade with handblown glass, and the front door is African mahogany with bronze hardware, specially made to withstand exposure to direct sunlight.
Stepping through this front door, I found myself in a huge great room combining living and kitchen spaces with beautiful vaulted ceilings. This main living space is both classy and comfortable, with a fireplace and French doors leading out onto the patio beyond. The kitchen has a separate dining area as well as a large island for seating. It has white wood cabinets, quartz countertops, stainless steel Viking appliances, and a special oversized white porcelain sink, which all combine for a bright, clean look. With many details to look at and admire, I kept finding myself drawn to the light fixtures. The pendant fixtures hanging in the kitchen, and the beautiful wrought iron chandelier in the living room are favorites.
Through a door is the upstairs master suite. The bedroom features the amazing mountain and ocean views, a walk-in closet, and a fabulous bathroom with both a glass-enclosed shower and an Italian soaking bathtub with a view. The bathroom floor is unglazed Saltillo tile with radiant heat, as a luxurious extra.
The upstairs is so self-contained that one might never need to step foot downstairs, but I checked it out anyway, to find three more bedrooms and two baths, including another master suite rivaling the one upstairs. 
The patios both upstairs and down are the focal points of the house. Both are large enough to be dining rooms or additional living spaces. The day I visited was one of our summer-in-November afternoons. The temperature was perfect inside and out. However, if it was too hot and sunny at any given time upstairs, the downstairs patio would provide a spot for shady respite, and the house itself has all new systems including air conditioning.
The delight of this house is certainly in its details. The floors are wide-plank oak, the staircase features custom handmade tiles, and the light fixtures truly need to be seen to be appreciated. The artistry of these elements, the overriding beauty of the views all around, and the knowledge that every single thing in the house is brand-new combine to offer a home that is just about perfect, whether you love charm and character or long for pristine perfection.
2626 Montrose Place is currently for sale in Santa Barbara, listed by Ali Evans of Keller Williams. Reach Ali at 980-8007 or alievans@kw.com.