Sports
Odell Runs 50 Charitable Miles For 50th
Westmont Athletic Director to Donate to Westmont and S.B. Track Club
Dave Odell's footprints are spread far and wide as a businessman, a college athletic director, a father of three, and a dedicated trail runner, but for almost nine hours last Friday, his steps were circumscribed on a 400-meter oval. To celebrate his 50th birthday, Odell ran 50 miles — 201 and 1/3 times around the Westmont College track.
He undertook the challenge to raise $50,000 in donations to be shared by the Westmont track-and-field program and the Santa Barbara Track Club.
Odell kept a steady pace, knocking off the laps at close to 10 minutes per mile. Every hour, he changed directions, so sometimes he was running clockwise like a British racehorse. As the skies began to darken, his competitive instincts took over. "I wanted to break nine hours," he said. "I had to pick it up and suffer the last three miles."
The timer was approaching 8:56 with a lap to go. In Pied Piper fashion, Odell pulled along a pack of fellow runners who had kept him company off and on during the day. A sizeable crowd gathered for the finish. "Ding, ding, ding!" they shouted in lieu of a bell. Two minutes later, Odell came to a gratifying standstill and listened to a chorus of "Happy Birthday." He thanked them and said, "I'm going to sit down and take my shoes off."
"He was a little sick this week," said Dave's wife, DeAnna Odell. "He came through. The community got behind him. For not one lap did he run alone."
Dave and DeAnna both were Westmont athletes in the 1980s — he as a basketball player and she as a record-breaking distance runner. In their wedded life, she turned his exertions from the court to the hills. On their 20th anniversary, they participated in the Transrockies Run, a six-day, 120-mile mountain trail race. "We ran in the mixed-pairs division," Dave said. "We had a blast."
Last summer and fall, they did two 100-mile runs: the Rio del Lago near Folsom and the Cascade Crest in Washington.
"He loves his wife, and she loves to run," said Bill Odell, Dave's father and a former Westmont basketball player himself. He and his wife, Gayle Odell, were at the track Friday. "He's crazy," Bill said. "For our anniversary, we went to Maui."
"I love the mindfulness of being out there," said Dave Odell, who is president and CEO of MedBridge, a company he founded, as well as Westmont's athletic director. He runs an average of 12 hours a week, usually with DeAnna. "We talk about being parents and pray," he said. "I think about things going on in my business and at Westmont."
On Saturday night, he was watching basketball at Murchison Gym. "My legs pretty sore," he said. He preferred to stand rather than sit, as it was painful to straighten up. In some ways, it was harder to grind away at 50 miles on the track surface than cover 100 miles over varied terrain. "I'd hike and climb on the trails," he said. "This was the longest continuous running I've done."
During the run, Odell addressed his interests as "a closet science geek when it comes to endurance." He had his blood tested for levels of sugar, lactate, and ketones to see what effects his carbohydrate intake had on his metabolism. His makeup is rather unusual. Twenty years ago, some serious gastrointestinal issues necessitated the removal of Odell's colon. His small intestines were reconfigured to take on the functions of the absent colon.
While Odell is a walking, running testament to modern medicine, he is also a worthy representative of mankind's ancestors going back thousands of years. "They would roam miles and miles to hunt and gather food," he said. "It's how we used to eat."
Nearby fans snacked on pizza slices in the gym. The stands were almost full, although Westmont was still on winter break. It was a great night for the Warrior basketball teams. They both defeated the visiting Biola Eagles, their longtime rivals. Westmont's women prevailed in a tense affair, 54-51, while the men made almost 70 percent of their shots in the second half of a come-from-behind 93-81 victory.
"I have a good feeling about our teams," said Odell, noting that they finished strong, just as he did.
WISH LIST: Here's hoping that the Santa Barbara Foresters work out a deal to play ball at Pershing Park or Westmont so they can continue their run this summer as the most winning team in the National Baseball Congress. The club's arrangement to play at UCSB ended last year.
The 2006 team, the first of Santa Barbara's six NBC World Series champions, will be inducted at the Foresters Hall of Fame Banquet on Saturday, February 4. Los Angeles Angels manager Mike Scioscia will be the keynote speaker. For tickets to the banquet and entry into a benefit golf tournament the previous day, visit sbforesters.org … The Dos Pueblos Little League (dpll.net) is engaged in fundraising to build three batting cages at Girsh Park and supporting scholarships for youth baseball players in Goleta. … UCSB continues to seek generous donors to upgrade the school's baseball facility for a fraction of the cost of a high school football stadium in Texas. … Good luck to a pair of former UCSB soccer stars. Chris Pontius has been added to the U.S. national team by new coach Bruce Arena for upcoming exhibitions against Serbia and Jamaica. Nick DePuy is one of the recent college players invited to the Major League Soccer predraft combine.
GAME OF THE WEEK
1/12-1/14: High School Girls' Water Polo: Tournament of Champions All 17 CIF Division 1 teams are in the tournament. The top five in the rankings are Laguna Beach, Dos Pueblos, San Marcos, Orange Lutheran, and Mater Dei. Laguna Beach senior Aria Fischer was on the gold-medal-winning U.S. Olympic team. San Marcos senior Paige Hauschild was on the national youth team, along with the Dos Pueblos trio of Ryann Neushul, Abbi Hill, and Jewel Roemer. After a preliminary round Thursday, there will be eight games each day at the three host schools. The championship match is scheduled at 4:35 p.m. on Saturday at S.B. High or Dos Pueblos. Thu.: 3-7pm; Fri.: 12:30-7:30pm; Sat.: 9am-4:35pm. Santa Barbara High, 700 E. Anapamu St.; Dos Pueblos (Elings Aquatic Ctr.), 7266 Alameda Ave., Goleta; San Marcos, 4750 Hollister Ave. Free. Call 966-9101.
SB ATHLETIC ROUND TABLE ATHLETES OF THE WEEK
Ryann Neushul, Dos Pueblos water polo
In a 15-14 overtime victory over Mater Dei, the junior scored seven goals and set up the tying goal late in regulation time. She also drew five ejections.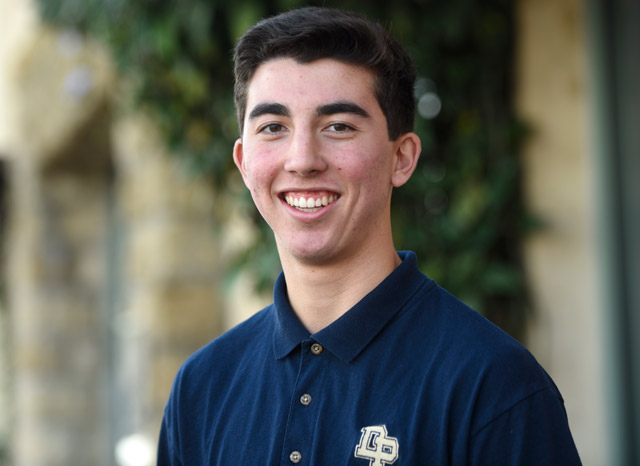 Diego Riker, Dos Pueblos basketball
The senior guard sank six three-pointers and scored 32 points in a 60-36 win over Moorpark. The Chargers enter Channel League play with an 11-2 record.