Sports
UCSB Men's Basketball Team Takes on North Dakota
Nine Reasons Not to Miss This Game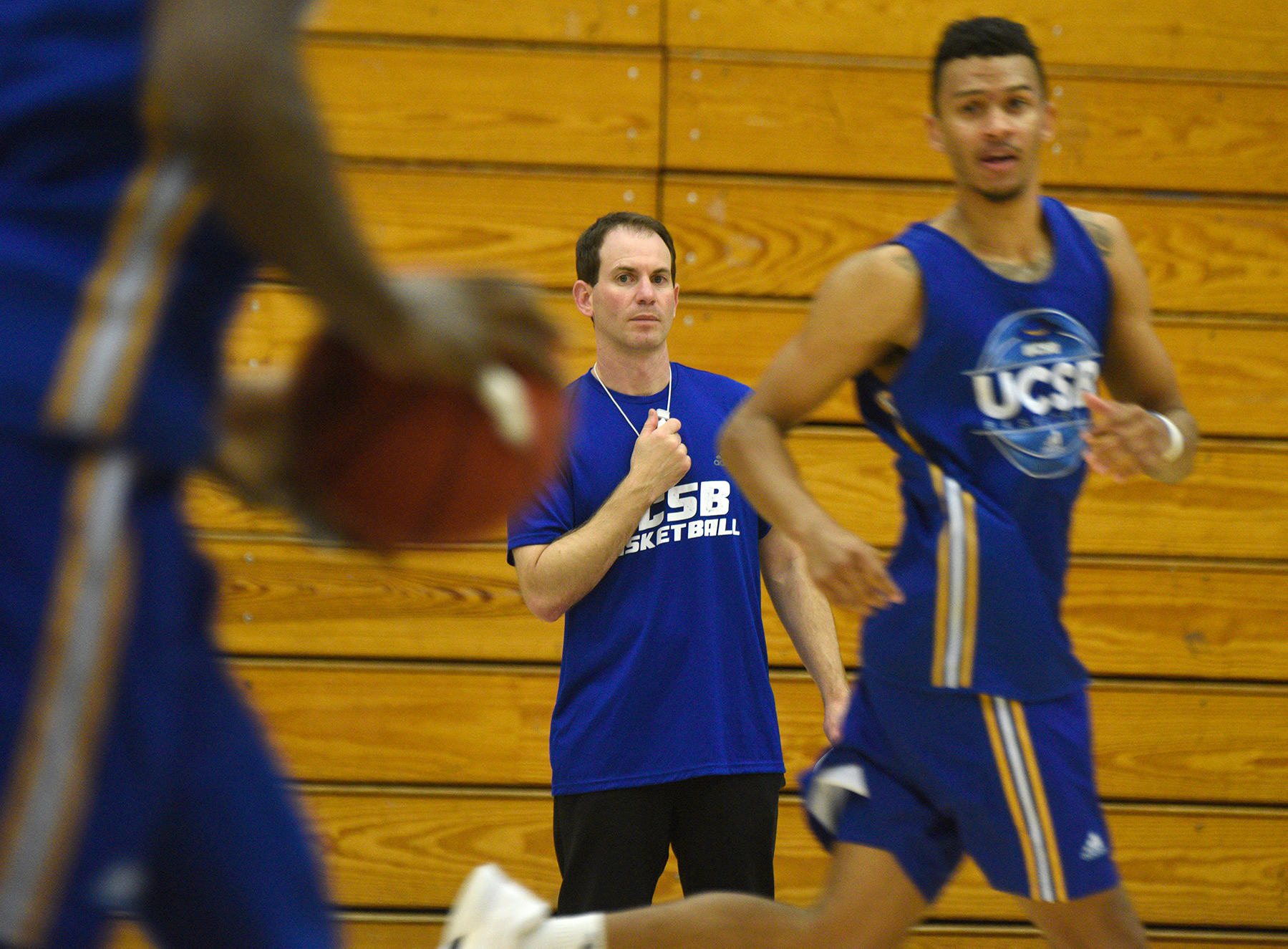 Here are nine reasons to go out to UCSB's Thunderdome at 1 p.m., Saturday, November 11, and watch the Gaucho men's basketball team take on the Bison of North Dakota State.
Santa Barbara vs. Fargo: We get to walk on the beach and watch the sunset over the Pacific every day — maybe after this game will be a nice time — and the Bison are heading into the long, cold winter of the northern plains. The Gauchos won only six games last year, while North Dakota State won 19. But that does not mean the visitors will encounter a laid-back atmosphere here, because …
Joe is in charge: "He's a fiery dude," guard Max Heidegger said of Joe Pasternack, who will make his regular-season debut as UCSB's head coach. He looks younger than his 40 years, maybe like a student manager, and that's how Pasternack got involved in college basketball some two decades ago — as manager for Bob Knight. It's not expected that Pasternack will be tossing chairs across the floor, but he did pick up a few things from Knight and other coaching mentors, including Arizona's Sean Miller, for whom he was a top assistant for the past six years. One place it shows is …
Practice, practice, practice: Pasternack repeatedly says that the Gauchos must focus on the day-to-day process and let the results take care of themselves. His practice sessions look like track meets, every drill and scrimmage going at breakneck speed. It will translate into high-tempo games, a preview being last Saturday's exhibition contest, a 92-69 victory over Fresno Pacific. One player who has worked out every day for the last eight months to get up to full speed is …
Gabe Vincent: The senior guard was UCSB's leading scorer last year (14.8 points per game) when he went down with a torn left ACL on February 2. That was among a series of misfortunes that contributed to the 6-22 season. Vincent, a strong defender and excellent three-point shooter, said his lonely hours of rehab taught him "how much I love this game." He received clearance to join full-contact sessions two weeks ago and hopes to start Saturday in the backcourt with a savvy newcomer …
Marcus Jackson: The 6′3″ senior, a three-time academic all-conference player at Rice University, graduated last spring and transferred to UCSB with a year of eligibility remaining. Another graduate transfer is 6′7″ forward Leland King from Nevada. "I wanted to be closer to home, and the school here is a good fit," said Jackson, a Los Angeles native. In last Saturday's exhibition, the point guard had a double-double of 14 points and 10 assists. He also was the team's top rebounder with six — shades of Brian Shaw. The other standout in the game was a sophomore of newfound confidence …
Max Heidegger: He struggled as a freshman, having been injured early in the year and then thrown into the fire after Vincent was hurt. Against Fresno Pacific, he was on fire, burying 10 of 17 shots (6-9 three-pointers) to score 26 points. "All summer long, I stayed here to work on my game, get my shot back and my confidence back," said the guard from Thousand Oaks. He could be vying for most-improved player with a big man who went through a long off-season …
Jalen Canty: The powerful 6′8″ senior is lighter (from 265 pounds to 235) and quicker, and his GPA is higher, enabling him back on the court after being sidelined by academic ineligibility last year. "He's worked extremely hard," Pasternack said. Also getting over the academic hurdle is 6′8″ junior Ami Lakoju, who has the biggest body on the team. In their absence last year, the brunt of work inside fell on a tall Canadian …
Alex Hart: At 6′10″, the senior post player has a shooting range that can stretch a defense. Pasternack said he is dedicating this season to the five seniors — Hart, Vincent, Canty, Jackson, and King — because it's their last chance to get into …
March Madness: The NCAA tournament was last visited by the Gauchos in 2011. The road toward the Big Dance of 2018 starts Saturday.
PLAYOFF FEVER: Friday night lights could be burning for several weeks, as the football teams of Bishop Diego and Dos Pueblos highs, both 9-1, are highly ranked in their CIF Southern Section playoff divisions. In the opening round November 10, Bishop (no. 1 in Division 6) will face Norte Vista from Riverside at 7:30 p.m. at SBCC. Dos Pueblos (no. 2 in Division 10) will host Brentwood at 7 p.m.
LEGENDARY DONS: Basketball star Jamaal Wilkes will headline a class of nine that will be inducted into the Santa Barbara High Dons Athletic Hall of Fame tonight (Thu., Nov. 9) at the Cabrillo Pavilion. The next day, there will be a memorial service in Santa Maria for Johnny Gilbert, a spark plug on the Dons' 1960 championship football team who also was a world-class sprinter. He was a slam-dunk into the Hall of Fame years ago. The service will be at noon at the Pacific Christian Center, 3435 Santa Maria Way.