Abe is a very handsome neutered male Husky/Shepherd mix who has a friendly, intelligent disposition. He is tall and long legged, with a beautiful smooth hair coat of a blend of tan, black, and cream, 65 lbs., and six years old. Abe is good with other dogs, kids, and adults (but cats are not on his "friend" list.) He loves long walks, hikes, riding in the car, and he is also mellow enough to just hang out with you, other people, and other dogs. He likes being with people so much that he would be best in a home where people are home a lot and also have a yard with very secure confinement, because his husky nature sometimes causes him to want to go out and explore the world and find companionship when no one is at home for him to socialize with.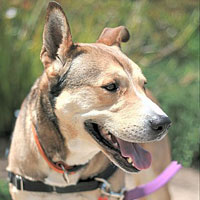 Abe will make a fabulous companion for the right person or family. To learn more about Abe and how to adopt a dog, go to www.K-9PALS.org
To meet Abe, stop by the Santa Barbara County Animal Shelter, 5473 Overpass Rd., Visiting hours are Monday-Friday, 9 a.m.-4:45 p.m.; and Saturday, 10 a.m.-4 p.m. An added bonus for adopting a County Shelter dog: Adopters receive four free professional behavior training sessions provided by K-9 PALS.
To visit K-9 PALS, Abe, and other adoptable dogs, visit our monthly events at PETCO 5 Points, Pet House, and other locations around the community.
If you are not looking to adopt, consider making a donation to K-9 PALS or becoming a volunteer. K-9 PALS is the all volunteer organization dedicated to providing medical care, adoption promotions, and advocacy for the homeless and abandoned dogs in Santa Barbara County Shelters.
For more information, go to www.k-9pals.org or call 805-570-0415. Donations can be made to K-9 PALS, P.O. Box 60755, Santa Barbara, CA 93160-0755.