Briefs
Election Unending for Some
Ballot Count Still Underway for Goleta Sanitary, Carp Valley Water, and Santa Maria City Council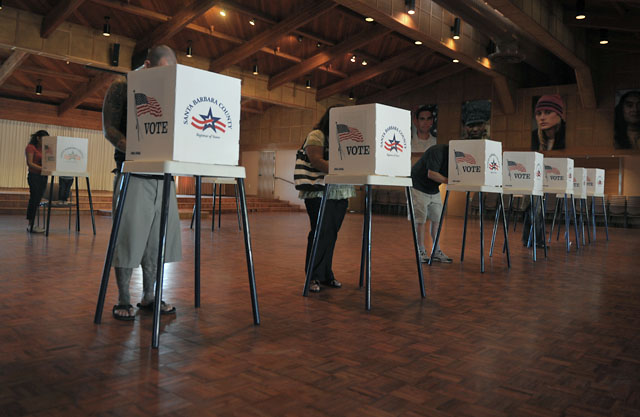 It's been more than a week, but the November 6 election count still isn't quite complete in Santa Barbara County, and at least three races — for Goleta Sanitary District, Carpinteria Valley Water District, and Santa Maria City Council — remain too close to call. As of press time, there were 1,000 vote-by-mail ballots still being processed (which were what remained of the 21,000 vote-by-mail ballots dropped off on election day), with 10,000 provisional ballots (which are counted last, to ensure no one votes twice) to follow.
The last-minute tallying is symptomatic of a statewide push to get more people to vote, which includes letting everyone know that they can still cast ballots on Election Day even if they lost their vote-by-mail form, show up at the wrong polling place, or aren't on the list once there. "We want everyone to have the opportunity to vote," said County Elections chief Joe Holland, but he noted that the provisionals take extra time. "We have to do a lot of research before we actually open the envelope and count the ballot." Holland has until 29 days after an election to certify the results, but he expects the actual winners to be known much sooner than that, perhaps by the end of the week.
The on-the-ground effect is that, on November 6, a candidate such as Steven Majoewsky went to sleep thinking he'd won reelection to the Goleta Sanitary board, but when he came home from a work trip on Sunday, his wife informed him that was no longer the case, as challenger Sharon Rose was up by 21 votes at last count. In the race for two Santa Maria City Council seats, election night's third-place finisher, Terri Zuniga, is now seemingly safe in first place with a 156 vote lead, but second-place finisher Bob Orach only holds a 15-vote gap over Etta Waterfield.
And in the Carp Valley Water race, Shirley Johnson's one-vote hold on the second-place seat evaporated by the end of the week, and she is now 29 votes behind Polly Holcombe. The two had run as part of a slate — along with Alexandra Van Antwerp, who lost the district's short-term election seat to water-science professor Richard Forde — to toss out "water buffaloes" June Van Wingerden and Bob Lieberknecht. While Lieberknecht lost, Van Wingerden came in first place. Whom she'll be serving with is anyone's guess right now.