Program offers two free years to dedicated students. Read story.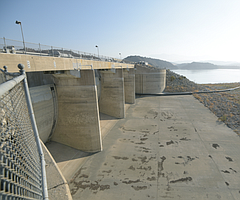 Planners started releasing water from Lake Cachuma Read story.
RECENT HEADLINES

City Follows Most State ADU Rules Aug. 13, 6 a.m.
Program Offers Two Years for Free Aug. 11, 8 p.m.
Well-Attended Event Provided Scholarships Aug. 11, 6 a.m.
Goleta Council and Mayor Campaign-Contribution Rundown  Updated Aug. 10, 9:05 a.m.
Planners Release Recharge Water from Cachuma Aug. 10, 12 a.m.
Drastic Measure Deemed 'Lesser of Two Evils' Aug. 9, 12 a.m.
Mendocino Complex Fire Now Biggest in Modern State History Aug. 9, 12 a.m.
Next Game at 5 p.m. Tuesday Aug. 6, 10 a.m.
Former Lieutenant Governor: 'My Thinking Has Evolved' Aug. 6, 12 a.m.
List of Fiesta Booth Vendors Had Been Given to State  Updated Aug. 3, 8:07 p.m.
Aug. 2, 4 p.m.
Mending a 'Sacred Space' Will Cost $30 Million Aug. 1, 5 p.m.
Judge Orders the Receiver Be Paid, Work Progresses in Dribbles Aug. 1, 8 a.m.
Fuel Break, Wildfire Funding, and Drought Topics of Discussion Aug. 1, 8 a.m.
Experts from Across the Country Offer Advice on Improving Santa Barbara's Main Drag Aug. 1, 8 a.m.
Program Run by El Centro Volunteers and Interns Aug. 1, 8 a.m.
Authorities Report an Increasing Number of Victims Aug. 1, 12 a.m.
Project Designed for Low-Income Seniors Aug. 1, 12 a.m.
Dense Westside Neighborhoods Historically Underserved Jul. 27, 11 a.m.
Nonprofits Team Up to Scrutinize Public-Access Settlement Jul. 26, 12 a.m.
Mentally Ill Santa Ynez Resident Charged with Assault on Officers  Updated Aug. 10, 10:27 a.m.