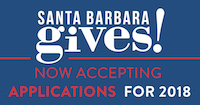 MOST RECENT NEWS

City Hall hosted a packed meeting on downtown woes.
Santa Barbara joins nationwide pet adoption drive.
Commissioners are exploring all avenues for public access.
Will more fuel breaks on San Marcos Pass protect them?
City councilmembers voted unanimously against the proposed "monolithic" fourplex.

For some months last year the trailhead parking lot for Hot Springs ...