Columns
Part Two in a Year of Montecito
Reviewing Montecito from July 2007 Forward
Happy New Year! For your reading pleasure on this first holiday of 2008, here are all the Montage stories from July 2007 until today. To read the full story, just click on the date. Enjoy the trip down memory lane, and I hope 2008 proves eventful for you, which will of course make it newsworthy for me!
(Part one of this review, from January through June, was published on Christmas Day, December 25. Click here for that story.)
Extra: Backcountry fire off Paradise Road causes Montecito Fire Dis't. to open gates at 144 (lower Sycamore Canyon) (6-30-07)
Caltrans relocks gates at 144 in spite of high fire danger
A refined Largura project submitted to MBAR, action postponed story poles requested
Extra: Montage goes fishing and Zaca Fire Copter Crashes nearby
San Ysidro pharmacy corner owner Richard Gunner presents new development ideas to MA
Team Ty (Warner) working hard to open Coral Casino by July 30
Carbajal hosts conclave to look at Hwy 144 landslide impasse and road closure protocols
Extra: Ash spreads into Santa Barbara from, what is today being called a 37 percent contained Zaca Fire
MERRAG offers Ash-flow tips
Interview with Dr. Gayle Bebee, new president of Westmont
Christy Todd Whitman and Michael Huffington visit with Montecito GOP supporters
Montage confirms Tom Cruise did not purchase Rob Loews Picacho Lane home
Author Tony Rafael talks to Channel City Club about his book Mexican Mafia
Jewelry-Art from Silverhorn on display at Santa Barbara Art Museum "Nights"
Chainsaw Don joins MERRAG training corps and things get electric
Jack Maxwell's lawsuit hits Santa Maria court
Heal the Ocean gets $300K in state grants
Coral Casino July 30 opening delayed to August 20
Nancy Pelosi, Speaker of the House, greets Montecito friends
July 26, 2007 (also in print)
Interview with Rick Caruso
Caruso unveils his Miramar plans at MBAR, who says inadequate info
Largura gets a boomerang from MBAR, asked to make more changes and return on 9-10
Extra: Montecito Fire calls for town hall meeting concerning Zaca Fire emergency planning
As Zaca fire moves south, 500 nervous Montecito residents jam into town hall meeting
Montage offers list of emergency preparedness tips
Q & A with Fire Chief Kevin Wallace about Zaca Fire status
Tom Green replaces Isaiah Tchobanoff as Montecito's Community Resource Deputy Sheriff
Red Flag Alert opens gate at Hyw. 144
Jonathan Winters entertains departing Zaca Fire commanders
Bob Collector, Andy Arnold and Deanna Wassom resign from MA Board
Zaca Fire appear to be backing away from Montecito, says Chief Kevin Wallace
Caruso submits completed plans to the county, visits MA, where he hears encouragement
Montecito hostess Lauri Tilson cooks up gourmet party
Oprah's looks quiet ten days before Obama $2,300-per-person fundraiser
Nancy Koppleman to host small private lunch for Obama, sans celebrities
SB Uncensored wraps up campy Channel 17 show
MERRAG hosts training on psychology of a disaster
Richard Wilke gives MFD a big Thank-You card
MPC to hold Aug. 29 briefing on intent of resource management hillside zone
Demolition has started on the Music Academy of the West's big remodel
Coral Casino postpones August 20 opening, hoping for Labor Day
Montecito Union School gets brand new track field
Permanent bridge completed between MUS and YMCA
Clair Gottsdanker's son, Josh, won the New Zealand National Lottery
Letter Perfect is Moving down the street
Extra: Romero Canyon brushfire burns three acres and an out-building
Coral Casino opens and Montage snaps the first photos
Miramar Story poles go up over Labor Day
Stephen Murdoch gets cheers his new book signing party
Martha Smiglis toasts Montecito artist Virga
Double pleasure: there are two J. Colins in Montecito
Rudy Giuliani to return to Montecito on September 27
With story poles and neighbors causing grief, Caruso pulls his Miramar plans
Coral Casino opens on August 31
Oprah raises $3million for Obama at her lawn party
Montage wonders what kind of circus she's joined
Extra: Bill Clinton visits the Montecito County Club and Montage is there
Extra: Prominent Community Volunteer Barry Siegel passes away
Montage's one-year anniversary, 77 columns competed
Bob Collector talks about his departure from MA
Lou Weider appointed to fill out Bob Collectors MA term
Darlene Bierig appointed to fill out Andy Arnold's MA term
A report on Barry Siegel's memorial service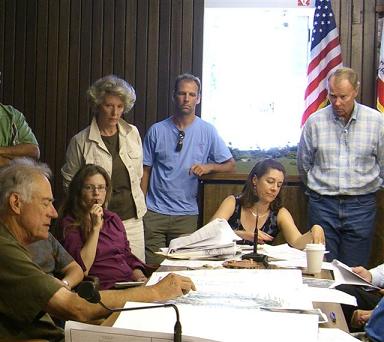 Largura approved by MBAR, action appealed to MPC by Dave and Kay Peterson
Montecito's T.C. Boyle receives Ross Macdonald Literary Award
Roger Durling toasts Brian Barnwell
Rudy Giuliani's visit causes less security fuss than Barack Obama's stay
Lighthouse restored atop Coral Casino
MA Prez Bill Palladini goes to Italy to participate in his family's World War II honor
Heal the Ocean holds annual fundraiser, sans top donor Rick Caruso
October 4, 2007 (also in print)
The story of O-O-O: the correlation between Oprah, Obama and O.J
County Public Works hosting community meetings to unveil safe school routes study
MPC to review San Ysidro Ranch trail re-alignment
Montecito Water District holds water pricing and conservation workshop;
"Americans Who Tell the Truth" art exhibit opens
Monica Brock Peterson fills Deanna Wassom's vacant MA Board seat
Andy Granatelli honored as "Automotive Personality of the Year"
Extra: Largura team makes courtesy presentation to MA; no action taken
October 11, 2007 (also in print)
Cooking lessons in Montecito with a private chef
Salud Carbajal attends role out of "Montecito Walk to School Project Initial Study"
James Carville spices up Montecito as Planned Parenthood speaker
Direct Relief hosts Montecito Fall Friend-Fest
Judge rules Jack Maxwell can get one more house on his Summit Road property
October 18, 2007 (also in print)
Former Fire Chief Herb McElwee helps fire agencies south of the border
Montecito Fire District and MERRAG named Montecito's Citizens of the Year
Australian astronomer Martin George leads star-search at Westmont 's Keck telescope
Bob Short, Michael Cook, Dave Kent and Dave Carpenter nominated for MA's 2008 slate
Author David Petry leads tours at Santa Barbara cemetery
Coast Village Road Merchant's Association to host "Great Halloween Walk" on Oct. 31
Cold Spring School honors Pedro Nava at annual fall festival
Dana Newquist elected president of Antique Automobile Club of American, SB Region
"Storytellers: Children's Book Illustrations" exhibit opens at Westmont's Gallery
Montecito residents Carol Burnett and John Cleese perform in Love Letters
November 1 (also in print)
Chainsaw Don Miller concerned over locked gate at Hyw. 144 and Sycamore Canyon landslide
Caruso gears up for November 13 MBAR reveal of Miramar II
Michele Gibbs and Anne Almy become P&D's lead Miramar planning team
Montecito related P&D changes post June Pujo as new MBAR liaison
Jason Moore takes over from David Villalobos as MBAR secretary
Montecito Water District starts conservation message flowing; Bob Roebuck to retire
Tour bus gets hung up on East Mountain Drive
Community Kitchens hosts Montecito home tour
Montecito kids rehearse for Peter Pan performance at SB High
Marc Chytilo takes home COAST Barry Seigel Award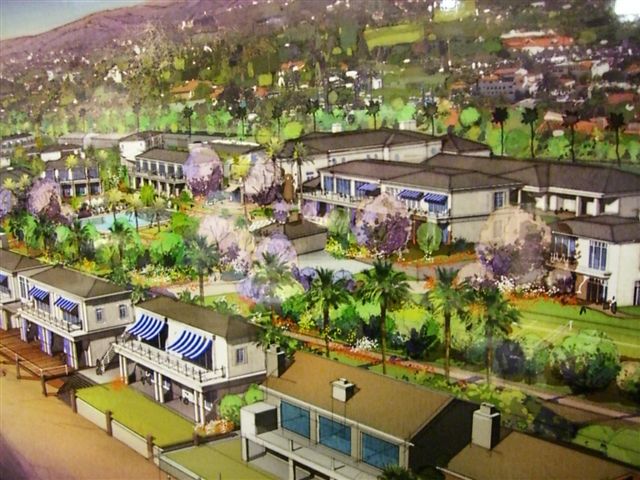 Miramar changes unveiled by Rick Caruso at MA monthly meeting
Water District says Montecito may soon thirst for water
Community getting interested in proposed development 76 station at Coast Village Road
La Casa de Maria invites the community to enjoy their Montecito sanctuary
November 15, 2007 (also in print)
When it comes to dolls, Montecito doesn't toy around
John Price, owner of the CVR 76 station, considers pulling his development plans
Lots of "ice" at SBIFF's tribute to John Travolta
Carbajal is raising the green for his upcoming political bash
Westmont lights up 150-foot Christmas tree
Hackers break into Westmont website, in traffic boosting scheme
Coral Casino beach stairs open after three-year closure, but memberships still closed
Montecito's Jill Schulz produces second annual Snoopy on Ice
November 29, 2007 (also in print)
Montage finds gifts galore in Montecito for under $100
Undaunted by lawsuit, Westmont moves ahead with MBAR review of expansion plan
Montecito's Susan Keller produces holiday show, "Revels"
Biltmore valet get sporty new garb
76 Station's John Price continues to weigh options for his gateway CVR property
Surfboards snap in high Montecito surf
MA Land Use committee support Peterson's appeal against Largura development
Coast Village Road businesses deck the halls for December 6 open houses
MA Supports Largura Appeal
Winters Wins Award
Carbajal Raises $300K
Miramar's New Story Poles
December 13, 2007 (also in print)
MERRAGE recalls a year of accomplishments and offers free public disaster preparedness course
Westmont development master plan gets favorable ruling from Judge Thomas Anderle
Rick Caruso arrives at MBAR review with 75 pages of new Miramar plans
Bill Palladini nominated again as prxy of MA
Extra: Peterson's appeal is upheld by MPC and Largura project hits another wall
Andrew Firestone, the Bachelor and the Supe's kid, signs on with Team Ty Warner
The Montage Year in Review, from January to June
What you're reading right now!!